You have some stock to sell. Or you're taking over some vehicles and are looking for a quick resell. And you're looking to receive the best price possible. ADESA is here to help. We will cover your trade-ins for you at a guaranteed price or auction your stock vehicles for the best market price.
We are the specialist in the online auctioning of used vehicles: passenger vehicles, vans, old vehicles with body and/or technical damages and high mileage cars. Our 40,000 professional buyers in and around Europe guarantee that we can offer good price for your vehicles. And remember, if you don't receive an offer that meets your expectations, there's no commitment to sell. You don't need to pay even a cent.
Our services
Innovative process for trade-ins
We cover your trade-ins. Just send us the vehicle descriptions, damage reports and pictures and we will send you a guaranteed offer within two business days. If it looks good to you, accept the offer and we then buy the vehicle when it becomes available.
Online auction platform
Every day, car traders and dealers from over 50 countries visit our website searching for quality vehicles. But there are other reasons why it's the perfect place to sell:
Your vehicles are presented in an attractive way with detailed descriptions.

You don't need to arrange the delivery

You just need to accept the highest offer. And if you aren't happy with it? You don't need to do anything but let us know.
Professional pricing
ADESA are the experts for online auctions. You can rely on us to help determine the fairest market price. Whether you request a guaranteed offer or are planning to auction your vehicle to the highest bidder.
Professional inspections
The best way to attract buyers? Let them know exactly what they're buying. Just say the word and our experts will come to your address to professionally photograph and inspect your vehicles. This makes sure the description for your vehicle is as accurate as can be.
Transport
We sell to 50 different countries. But there's no need to worry. Because we also organise transport. There's no need for you to make deliveries. You just need to be ready to hand over the keys when a transport company arrives to collect the vehicles you sold on our website. How much easier is this for you?
Start now!
Do you have questions? Or would you like to start selling? Let us know, we are happy to help you out!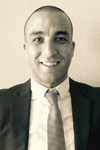 Redouan Amrhar
Account Manager
Tel. +31 (0)34776 37 35