Is it time to sell your city or town's old vehicles? Wouldn't it be great if the process was quick and easy? And you ended up with a good price? ADESA is an online vehicle auction website that sells vehicles quickly at fair prices. We are your ideal partner for selling all your old vans, trucks, passenger cars and even damaged vehicles.
Your vehicles will be seen by over 40,000 professional buyers in over 50 countries who are prepared to pay what your vehicle is worth. Add our top-quality customer service and what do you get? Quick and efficient sales at the right price.
The benefits for you
Best market price

Being on the internet, we reach 40,000 potential buyers at once from over 50 countries. And as your vehicle is being auctioned? They bid against each other to drive the price up. Which is exactly what you want.

Quick, easy and convenient

This is how it works: you do nothing. Yet your vehicles are still seen by 40,000 potential buyers! When your vehicle is sold, we take care of the administration and paperwork and make sure your get paid. Great! What are you waiting for? Sell your car on ADESA today!

Fast payment that's fully guaranteed

You always receive your payment within four business days.

One single point of contact

We meant it: we have top-quality customer service. This means no matter who buys your vehicle, you have one contact person who will guide you through the process, answer your questions and help you out in any way necessary. And they do this is your own language.

Professional inspections and pricing

Our auction experts put their knowledge and experience at your service. They know exactly how to set prices to produce the best results. When necessary, our experts will professionally inspect all your vehicles at your address.

Transport service

When your vehicle sells, we arrange the pickup and transport via a transport company. Sit back, relax and watch them work.

Integrity and reliability

Putting you first means working with transparency, honesty and reliability. The cornerstones of ADESA. You don't have any commitment to sell and if an offer doesn't live up to your expectations? You don't have any costs either.
Start now!
Do you have questions? Or would you like to start selling? Let us know, we are happy to help you out!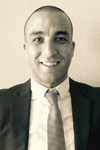 Redouan Amrhar
Account Manager
Tel. +31 (0)34776 37 35