Maximise your returns on ex-leasing vehicles via ADESA. Our unique online auction website is a great addition to your remarketing mix. Via our platform, you can offer your vehicles to over 40,000 vehicle traders in and around Europe. The result? Better profits for you. Reliable, remarketed vehicles for them. And the catch? There is none. There are no hidden costs and there's no commitment to sell. If you're not happy with the price you're offered, you don't pay a cent.
Easy process
We have spent the past ten years refining and improving our sales process. If you want to sell a vehicle it takes just five simple steps.
| | |
| --- | --- |
| 1 | Request |
| | Contact us. |
| | Define the optimal auction procedure for your vehicles together with your contact person. |
| 2 | Pricing & vehicle descriptions |
| | You benefit from the knowledge and experience of our auction experts who know how to set the right prices in order to produce the best bids. You can supply the vehicle descriptions yourself, or our experts can photograph and inspect your vehicles and compose detailed vehicle descriptions and damage reports. |
| 3 | Auction |
| | We auction your vehicles on www.adesa.eu. Every vehicle has its own page with a vehicle description, damage report and pictures. |
| | Over 40,000 registered car traders place their bids on your vehicles. |
| | The auction is closed. You receive the highest bid per vehicle. |
| 4 | Sale |
| | You decide within 2 business days whether you accept a bid. |
| | When you accept a bid, the vehicle is subsequently sold. You make out your invoice directly to us. |
| | We pay all sold vehicles within 4 business days. |
| | Because you sell and invoice directly to us, you enjoy an easy administration process, regardless of the location of the buyer. We take care of all VAT and export administration. |
| 5 | Pick up |
| | We handle the pickup and transport of all vehicles. |
Start now!
Do you have questions? Or would you like to start selling? Let us know, we are happy to help you out!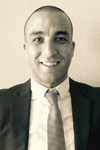 Redouan Amrhar
Account Manager
Tel. +31 (0)34776 37 35