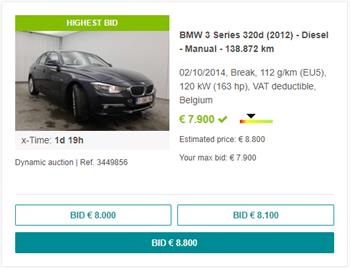 The My Bids page is where all the action is. All cars you're bidding on, or following, are listed here.


Which information is available on the My Bids page?

Besides the info on the cars you're bidding on, you'll see the Price barometer, Estimated price* and Ultimo (Coming soon!) info for each of your bids. A great way for you to know how your bid is shaping up.

* Bid the estimated price to optimize the chance that the seller will accept your bid.

The My Bids page also has tabs for 'Active' and 'Closed' auctions. The 'Closed' tab includes the results of all the auctions in which you've placed a bid:
- If you won and the seller has assigned the car to you, you'll see a link to take the next step, or
- a link to similar cars if your bids were unsuccessful.
- if the same car is being auctioned again, you'll find a link to bring you to that new auction.

Can I change the view of the My Bids page?

Indeed! You're able to see the visuals in either a grid view, or if you're a power user who has several bids running at once, in a table view.


Is the My Bids page accessible via my mobile phone?

Yes, the My Bids page is designed to be smartphone-accessible. You're able to track your bids anytime and anywhere. It even comes with a safety net -a confirmation window- to prevent you from bidding by accident. This is an option that you're able to switch on and off in My Account. The confirmation window is also used when you're bidding from the Car Detail page.