We decided it was time for a major overhaul. And just like that, we started throwing ideas, requests and concepts at our IT Design Team. They put their brains into gear, worked late, drank a lot of coffee and worked their magic. The result? Our brand new, ultra-efficient Car Detail page.
A new design
You'll see the Car Detail page has an awesome new design. It's been based around fulfilling three of your needs:
• Your need to know what's happening
A blink of the eye is all it takes for the auction environment to change completely. The last thing you want is for your bid to be beaten without your knowledge! We updated our messages to make it clear when you're leading the bids and when you have some bidding to do.
• You need to know what's important
There's plenty of information on our Car Detail page. It covers everything you'll be happy to know about, as well as a lot of very important info you absolutely have to know about! We have highlighted it with blue boxes to make sure this very important info is easy to find and impossible to miss!
• You need to know for sure
It's important to know exactly what's happening when you're bidding on a car. And the system of icons and colour coding we used to use was not as clear as we wanted it to be. But now? We have paired our icons with text. And when we use colours, we tie them in with text. And so, for example, instead of just colouring your price green to show you're the highest bidder, we colour your price green and write: You're the highest bidder! It doesn't get much clearer than that!
New features
You already know ADESA is full of wonderful ideas. And since we were doing a major overhaul, we decided it was the right time to feed our IT Design Team another few litres of coffee. They responded by bringing a few more ideas to life:
• Seller score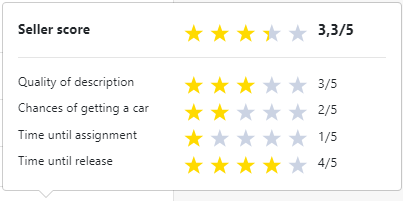 Exactly how well do our sellers perform? It's time you found out. For quite some time, ADESA has been monitoring their performance in four key areas:
• The quality of their vehicle descriptions.
• How often they accept the highest bid on a vehicle – and how likely you are to receive it if you have the highest bid. (We only look at bids which are close to the Estimated Price).
• How long they take to assign a car after the auction.
• How long they take to release a car that's been paid for.
For each auction and for each area, we awarded them a score out of 5. Afterwards, we took a dive in the data and calculated a total Seller score. You'll see this Seller Score on all cars, if we've got enough data for them. If you would like to know how they perform in each specific area, click on Score details and you'll have your answer before you know it.

As a car trader, you probably know your vehicle makes and models by heart. And you probably know the price of every vehicle you sell. But what if it's a make and model you've never sold before? The Consumer market price is the average price a vehicle is sold for in your local market. While it doesn't take damage into account, it gives you a very good idea of whether you'll be interested in bidding on a car. Especially when you factor in the Estimated price. In the first phase, this feature will only be available for customers in Spain and Portugal.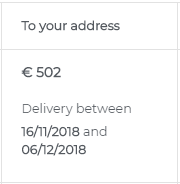 Was this on your wish list? Because we have good news. With our expanded list of transport destinations, ADESA has been able to introduce standard transport on our most common routes. And this has given us plenty of numbers to crunch. The result? We are now able to tell you when to expect your car. There are certain variables that are difficult to predict, such as how long it will take you to pay for a car or the seller to release it, so our Estimated transport times are, without any doubt, estimates. However, they give you the date range you'll need to keep free and make life that little bit simpler.
• Price barometer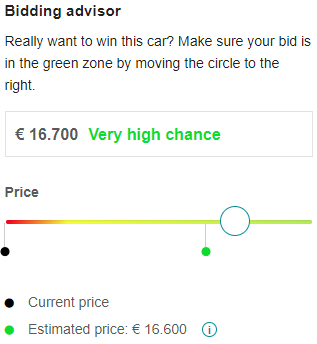 A blink of the eye is all it takes for the auction environment to change completely. The last thing you want is for your bid to be beaten without your knowledge! We updated our messages to make it clear when you're leading the bids and when you have some bidding to do.
Do you spend your nights dreaming about how to take the guesswork out of bidding? We used to. But then we envisioned the Price barometer. Working with many of the greatest minds in the entire world, we developed a three-colour system that shows you how attractive your bid is. It works in relation to the Estimated price.
Red: You haven't reached the Estimated price for a vehicle and run every risk of being outbid.
Yellow: You'll need to cross your fingers to win … or increase your bid.
Green: This is where the action is! You've passed the Estimated price and there's now a good chance your bid will be the winning bid.
You'll see the Price barometer whenever we have an Estimate Price for the vehicle. While it doesn't guarantee you a win or a loss, it does indicate how attractive your bid is. It's a great way to help you win more cars!
Our To Do List
You might expect ADESA to be out of ideas by now. But we still have a few more items on our To Do list. You'll soon see icons for the most popular options appear on the other pages of the ADESA platform and we have also decided to give the Damage descriptions a complete make-over. But these are the ideas we have already decided to investigate. We really want to know about what you want us to do. How can we make ADESA run better for you? If you have any ideas or requests, please let us know.
And how about sending us a little feedback on our new Car Details page? What are your thoughts? Is it easy to find what you're looking for? Does it make bidding simpler for you? You are more than welcome to share your impressions!